Saxophone Studio at the University of Arizona
The saxophone studio at the University of Arizona offers the benefit of individualized study and personal attention. Students have the opportunity to have their learning experience tailored to their needs and career goals. The saxophone studio is a supportive environment where students have the social support to encourage each other in personal growth and development.
Studio classes are offered weekly with an abundance of performance opportunities and topics. Taking the form of a master class, solo performances in studio class give students the opportunity to receive feedback from their fellow studio members, as well as Dr. Goodman. The class may also take on the form of the following: Technical Skills; Pedagogy; New Music; Saxophone History; Career Development; Jazz technique; Art Song; other topics the students would like to potentially explore. Other performance opportunities include saxophone quartet, jazz combo, and saxophone ensemble.
Students are encouraged to be creative, entrepreneural, goal-oriented, and collaborative. They also have the opportunity of attending many live performances and working with many world-class faculty and guest artists, as well as access to a state-of-the-art recording studio. ​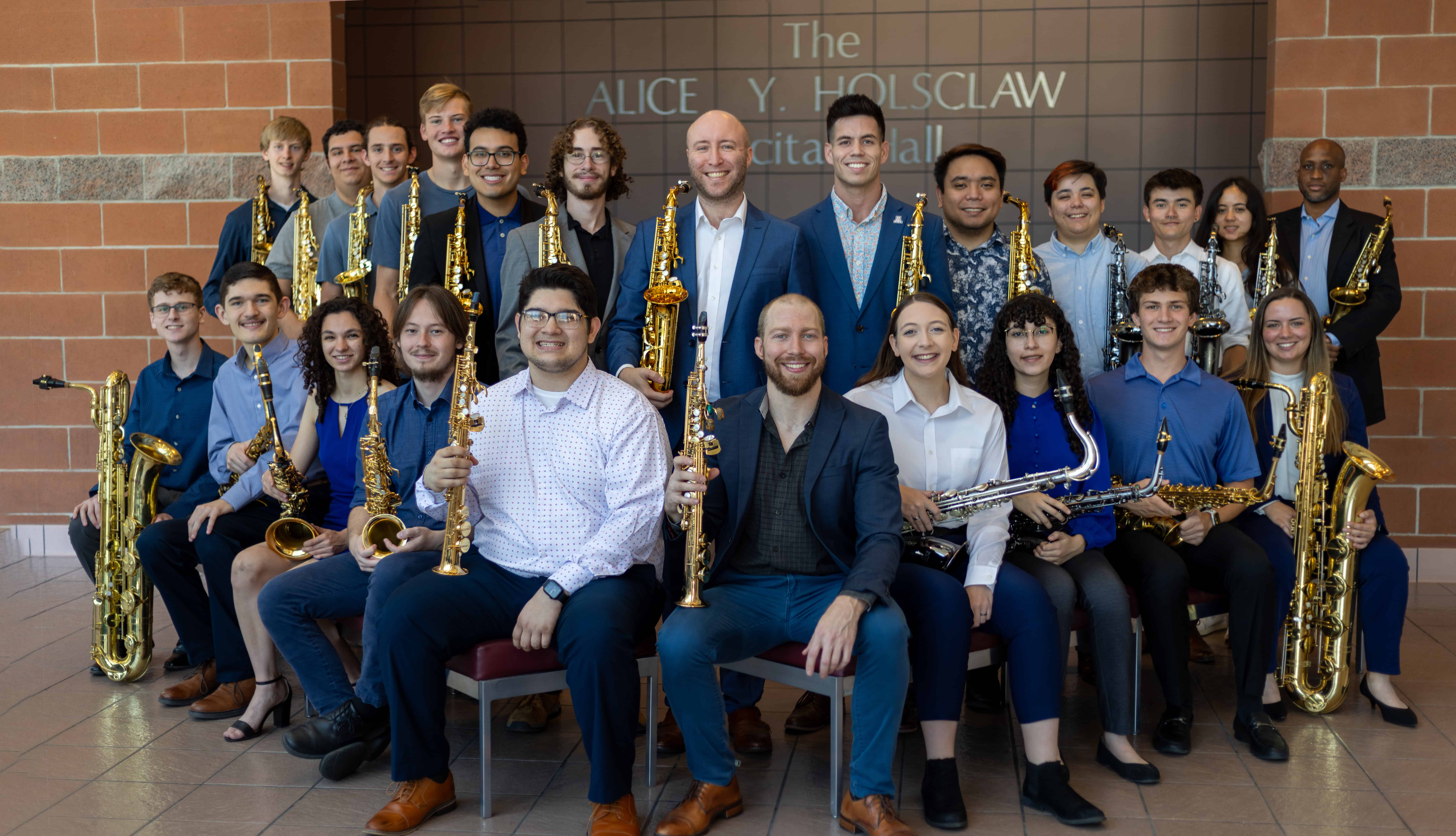 University of Arizona Fred Fox School of Music
The mission of the Fred Fox School of Music is to prepare students as musicians, scholars, and teachers, and to provide the community with performance, scholarship, and education. The University of Arizona has offered instruction in music since the late 1800's. Today, the Fred Fox School of Music ranks among the country's foremost institutions of higher education in music.
A nationally and internationally recognized faculty of artists and scholars provides instruction, inspiration, and guidance to the School's approximately 400 music majors. Fred Fox School of Music graduates hold significant teaching, performing, and administrative positions throughout the country and abroad. In the years ahead, The University of Arizona Fred Fox School of Music will continue to play an important role in the training of performing artists, teachers, and scholars. ​
The School offers a wide variety of degree programs and musical experiences, and presents over 300 concerts and recitals each year. Performing ensembles tour both within and outside the state. Internationally known artists, scholars, and clinicians are brought to the campus for concerts, workshops, lectures, clinics, and master classes.